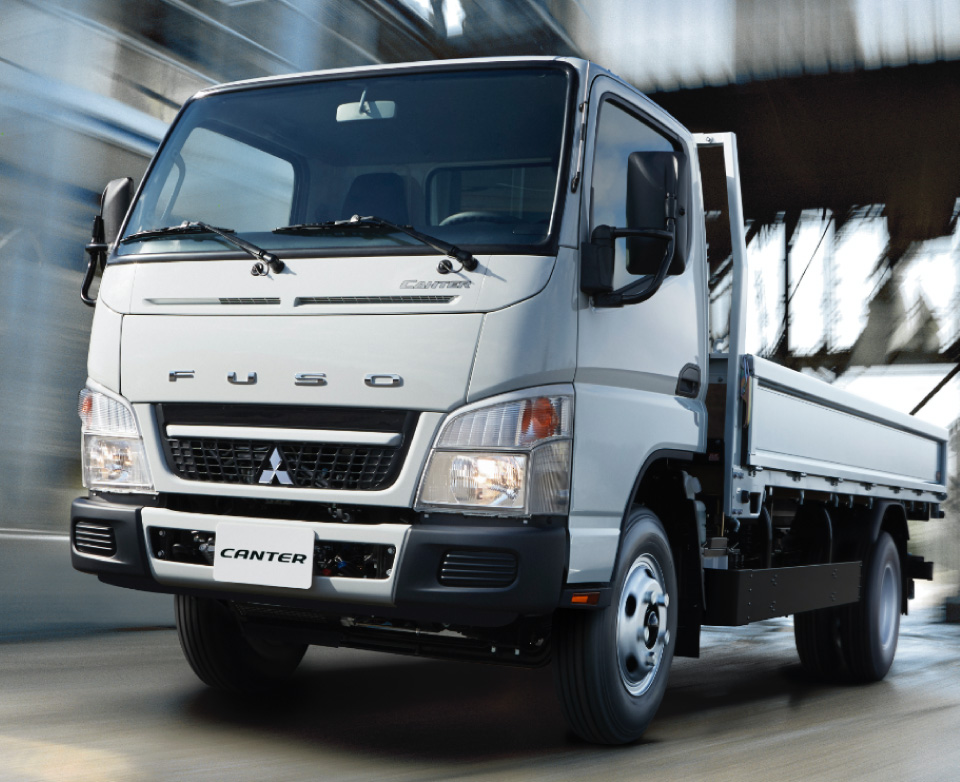 The FUSO revolution
---
Not only is the new FUSO Canter LIFT the only commercial truck with a dual-clutch transmission, it's also safe, affordable to run and so comfortable that owners would want to drive it themselves. No wonder it's the bestselling truck in the Daimler AG stable.
'The acronym LIFT stands for Light-Duty International Future Truck. This is indicative of our pioneering spirit of always moving forward for our customers and society,' says Naeem Hassim, head of FUSO Trucks Southern Africa.
'The new Canter is our most extensively updated product yet. Our FUSO designers and engineers put everything they know about powertrain technology and efficiency into the new Canter LIFT. This has resulted not only in a vast improvement on our previous models but also in a vehicle that represents a new approach to transporting goods by truck,' Hassim explains. 'The new Canter LIFT reflects our product values of low operating costs, reliability and functionality to ensure maximum profitability,' he adds.
The new truck offers a significant increase in service intervals: up to 25 000 km in some applications. A two-year unlimited-kilometre warranty also contributes to a lower cost of ownership.
The new Canter continues where its predecessors left off, offering unrivalled reliability and an unsurpassed track record steeped in a 52-year heritage. Since its international launch, the new FUSO Canter LIFT has impressed not only its customers but also an array of industry experts. It made history by being the first commercial vehicle to receive the Automotive Researchers and Journalists Conference's Car of the Year Special Award in Japan in 2013, followed by the accolade of Best Energy-Efficient Product Award in Ireland.
FUSO's new 4P10 turbocharged and intercooled four-cylinder diesel engine with twin camshafts and four valves per cylinder is coupled to an advanced DUONIC six-speed, dual-clutch automated manual transmission.
The Canter maximises efficiency and lowers the cost of ownership while being one of the most practical vehicles to own and drive. Fuel-efficiency targets are achieved or exceeded and the Eco mode further improves efficiency. The dual-clutch provides a soft shift that needs no maintenance and achieves the lowest shift shock in its class. This also makes it the smoothest-running, easiest-to-drive FUSO Canter ever built.
Drivers were top of mind when the Canter LIFT was designed, and its features include stabilisers for the front and rear, disc brakes all round with ABS and EBD, air conditioning, power windows and central locking. Being part of the Daimler stable also means the Canter LIFT benefits from revised and more competitive service and maintenance rates.
The new FUSO Canter LIFT features a roomy, fully trimmed cab that provides ample space and comfort for the driver and two passengers. The shift lever is mounted on the dash, with a simple, well-defined shift. This allows the driver and passengers to exit the vehicle on the (safer) kerbside easily.
Whether the new Canter LIFT is utilised for refrigerated deliveries, bakery applications, general distribution, courier logistics or any other operation, it has been designed to provide tailor-made solutions.
'As we continuously refine the Canter to remain at the forefront of the truck industry, we ensure that we do this with all our stakeholders in mind,' Hassim concludes.