Provincial Logistics invests in FUSO Trucks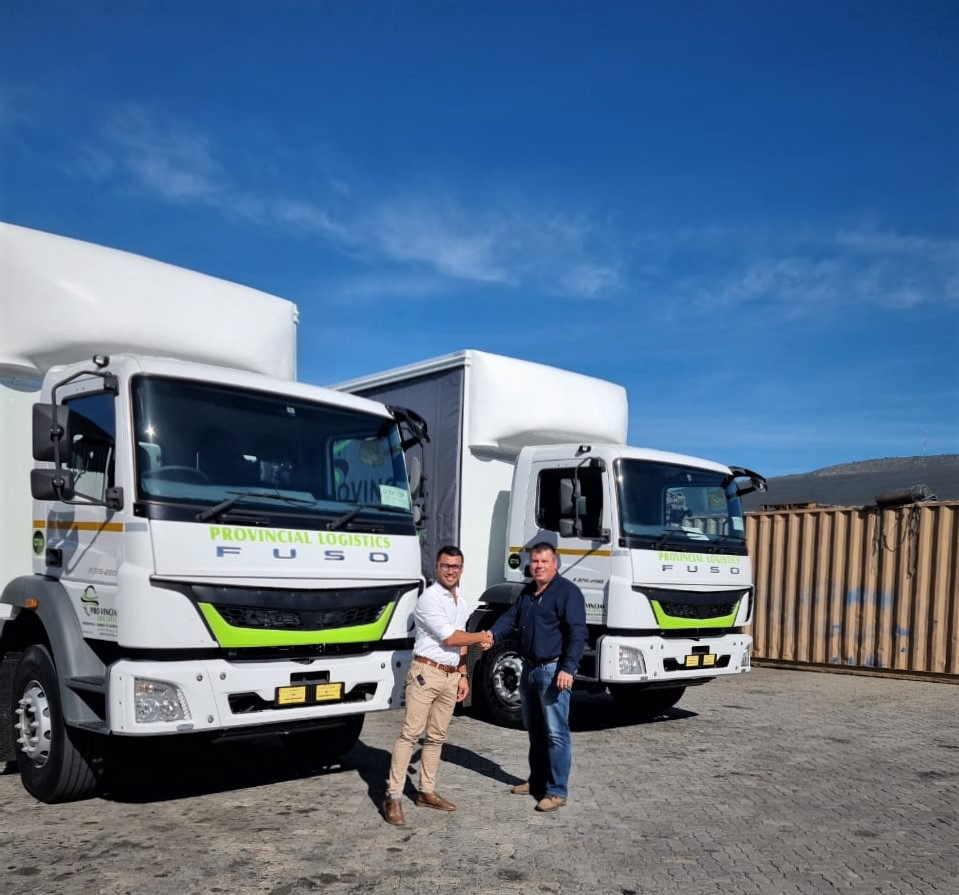 Provincial Logistics invests in FUSO Trucks for its steadily growing business!
---
In its long-term pursuit of becoming Africa's trailblazer in the logistics and transportation industry, has seen Provincial Logistics, for the first time, partner with one of Southern Africa's renowned truck brands - FUSO Trucks. This is subsequent to a considerable delivery of six striking FUSO models namely; x2 FUSO FA9-137, x2 FUSO FJ26-280, x1 FUSO FI12-170, and x1 FUSO FM16-270 to Provincial Logistics in May 2022. FUSO Trucks takes pride in providing a full range of trucks for a wide range of operating conditions, and earning its way into Provincial Logistics' cargo fleet demonstrates yet again the brand's ongoing commitment to offering "Simply Better Trucks" for its customers.
With its diverse fleet comprising Mercedes-Benz and FUSO trucks, Provincial Logistics has placed Daimler Truck Southern Africa (DTSA)'s brands at the top of its list of preferred fleet purchases to carry out its logistics services throughout South Africa and the neighbouring countries. In 2021, the company received a major delivery of nine Mercedes-Benz Actros 2645 models and the recent FUSO handover brings the tally of DTSA trucks operated by Provincial Logistics to 15 in total.
Provincial Logistics Management expresses the excitement of their new fleet: "We are thrilled to officially welcome our first FUSO fleet into our growing operation, and with the addition of the new units, we now proudly boast a fully-fledged Daimler Truck fleet. Reliability, durability, and fuel-efficiency play a fundamental role in our line of business and we are very pleased that FUSO Trucks was able to fulfil our stringent requirements. These trucks give us excellent value, comfort in growing our business and further allow us to provide our clients exceptional service and competitive cost structures. We look forward to future deliveries and solidifying our partnership with DTSA as well as its fantastic dealership, Orbit Commercial Vehicles Cape Town".
Maretha Gerber, Vice President: Sales and Marketing Daimler Truck Southern Africa weighs on the newly found partnership "With customer's business needs always at the pinnacle of what we do, I take delight in our ability to have been able to successfully deliver the very first FUSO fleet to our valued customer. Over the years, we have paced ourselves one step ahead of our customers to ensure that we cater directly to their ever-changing business needs. As the FUSO team, we are pleased to have entered into a partnership with a company of the calibre of Provincial Logistics and they can rest assured that with the new fleet they will certainly enjoy value for money, best service support backed by our commitment to optimal uptime, ensuring their vehicles are on the road doing what they are supposed to do. I remain humbled by the support and faith given to the FUSO brand, and I wish them further success as their business continues to thrive".
Provincial Logistics is a privately owned South African based Logistics (3PL) Provider founded in 2008 offering one-stop-shop 3PL services for various industry verticals. Established with a relatively young team of staff members ensured that the business had a proactive and dynamic approach to delivering the goods and always keeping up with the latest technological trends. The logistics expertise, advanced supply chain technology, customized logistics solutions, and timeous delivery keeps the company ahead of the pack. With the existing infrastructures in Cape Town, Johannesburg, and Gqeberha, owned assets, cutting-edge supply chain, the company is equipped as one of the largest one-stop logistics service providers with a strong ability to serve various industry verticals.
"Provincial Logistics has grown into a serious player in the Western Cape road transportation landscape, and we are super proud to be a part of their story. Thank you Pierre, Herman, and JP for entrusting us with your business", concludes Cornél Oelofse, Franchise Executive: Orbit Commercial Vehicles Western Cape.
Media enquiries:
Lisanda Mcetywa
Tel: 012 677 1792
Cell: 076 236 4781
e-mail: lisanda.mcetywa@daimler.com