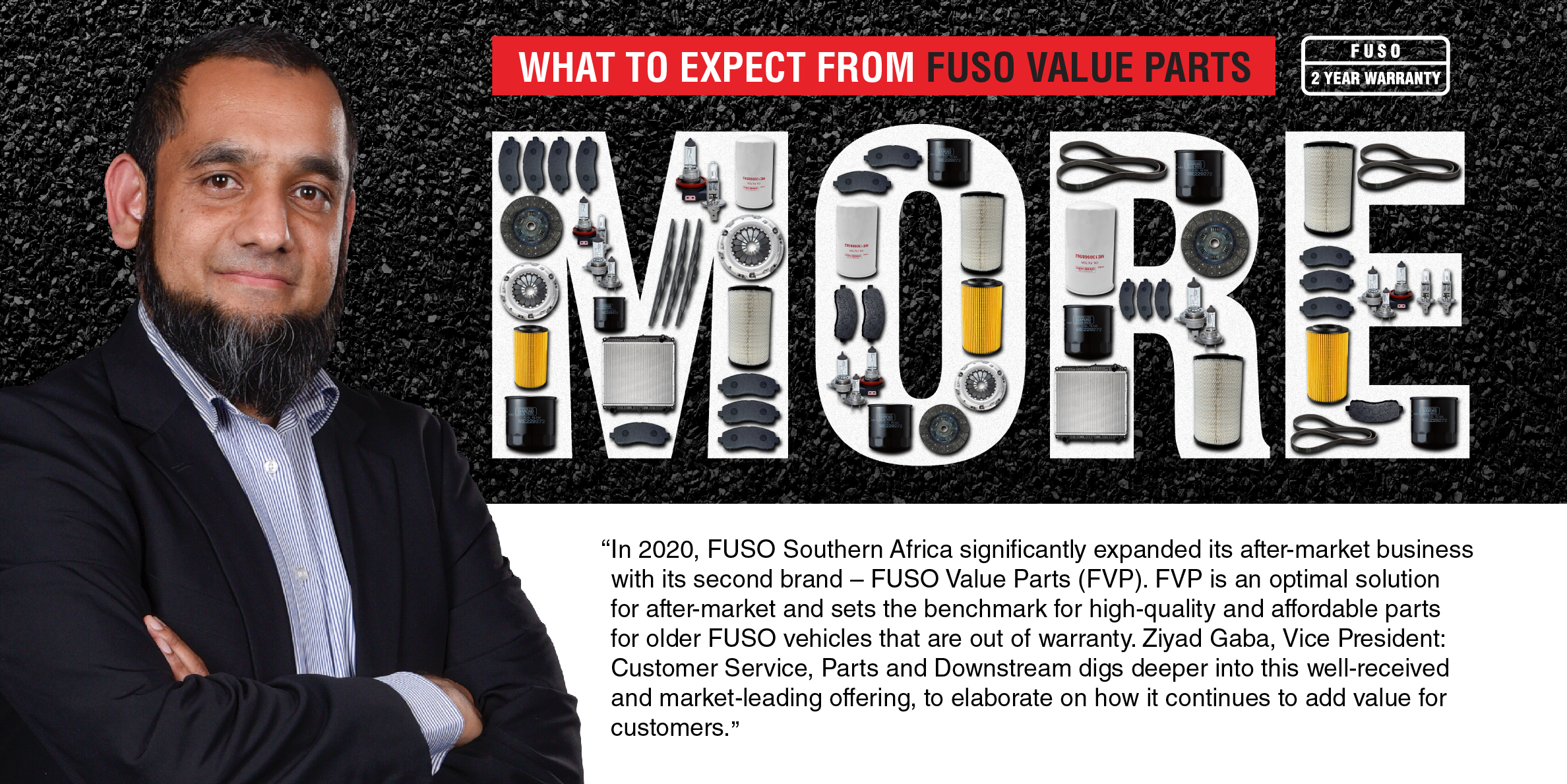 FUSO Value Parts set benchmark for quality and affordable parts!
---
FUSO Value Parts set benchmark for quality and affordable parts!
FUSO Southern Africa is an integral brand of Daimler Trucks & Buses Southern Africa (DTBSA) and renowned for delivering "Simply Better Trucks". In 2020, as part of its growth strategy, the brand significantly expanded its after-market business with its second brand – FUSO Value Parts (FVP). FVP is an optimal solution for after-market and sets the benchmark for high-quality and affordable parts for older FUSO vehicles that are out of warranty.
What distinguishes FUSO Trucks in this highly competitive market, is its ability to put their customers at the heart of everything that they do.  They have successfully achieved this by simply developing services and parts that perfectly match their customer's business needs. This forms part of the brand's overall strategy of being a part of the customer's business journey to ensure Reliability & Quality, Value for Money and Best Service Support. With the introduction of FVP, FUSO Trucks understands that truck owners will shop around to keep maintenance and running costs as low as possible, contributing to a reduced total cost of ownership over the vehicle lifecycle.
Ziyad Gaba, Vice President: Customer Service, Parts and Downstream digs deeper into this well-received and market-leading offering, to elaborate on how it continues to add value for customers: 
Elaborate further on FVP and the thinking behind this offering?
As a vehicle ages, the customer's expectations change, owners of aging FUSO vehicles become more price-sensitive and start looking for more affordable solutions. To support these customers, our objective is to continue to offer peace of mind to our customers irrespective of the age of the vehicle – hence the introduction of FUSO Value Parts. With this offering, we pride ourselves of cost effective parts that are designed and engineered in high FUSO quality standards, and enable customers to still fit original equipment parts that will increase profitability and avoid downtime.
What is the value proposition to the customer?
As is customary with FUSO Trucks, the brand always seeks to understand the customer's business needs and always strives to deliver simplified transport solutions, and with FVP this is no different. Customers can expect the high FUSO quality standards that they are accustomed to and are guaranteed not to look any further .FVP is an attractive solution for owners of FUSO vehicles out of warranty, reasonably priced, and designed to give the same high-quality, safety, and reliability as FUSO Genuine Parts. Our engineers with longstanding experience and unique vehicle knowledge design the right part for the most demanding condition of use. In addition, a 24-month unlimited mileage warranty is provided on all FUSO parts. This applies to the FUSO Genuine Parts series, as well as the FVP range.
Are FVP available across the FUSO Truck range or only on selected models?
We are proud to confirm that FVP are available through our authorized FUSO Trucks dealer network and service centers, and currently, the range is offered on selected FUSO truck models within the Light, Medium, and Heavy-duty commercial vehicle segments. For more information on the exact models, customers are encouraged to get in touch with the nearest FUSO Truck dealer or visit the website link provided.
Which parts are included in the FVP range?
The FVP range is continuously expanding to keep up with the ever-changing needs of our customers, and the increase in demand requires us to constantly review the inventory to ensure that parts are always available when needed. In 2021, we further expanded the range of parts available, and it now includes a broad range of exciting products namely:
* Air, oil, and fuel filters
* Brake linings and brake pads
* Bulbs
* Clutch kits
* Oil seals
* Radiators
* V-belts
* Water pumps, and
* Wiper blades
 Who is the target market/audience for FVP?
FVP are available across Southern Africa, and specifically designed for customers with FUSO vehicles out of warranty. This also applies to customers that are price-sensitive and look for "value for money".
What are some of the other benefits for the FVP range?
To be unique and stay ahead in the industry within which you operate requires thorough research on market trends to understand what your customers need. Raising the bar high with FVP is the fact that all parts proudly meet OEM quality standards with no compromises on safety. In addition to this, the FUSO Research and Development only releases products after rigorous tests, and these tests are based on Genuine Parts. What also adds value with our offering is that we as the manufacturer of the vehicles know the common interaction of all components in the vehicle. 
How can potential customers find out more about FVP?
With a comprehensive national dealer network footprint backing up our after-market business, customers are never too far from our FUSO Truck dealer. Whether scheduled services are carried out by the customer or at one of FUSO's service centers, every FUSO dealer has a team of expertly trained technicians and parts specialists standing by to provide advice and support. Alternatively, for further information on this exciting offering, interested customers are welcome to visit the FUSO Trucks website Fuso| Fuso Value Parts (dtbsa.co.za)
About FUSO Trucks
FUSO is an integral part of Daimler Trucks AG, the world's largest manufacturer of commercial vehicles. Established in 1932, FUSO has a presence in over 170 countries worldwide and a history that spans over 20 years in Southern Africa.