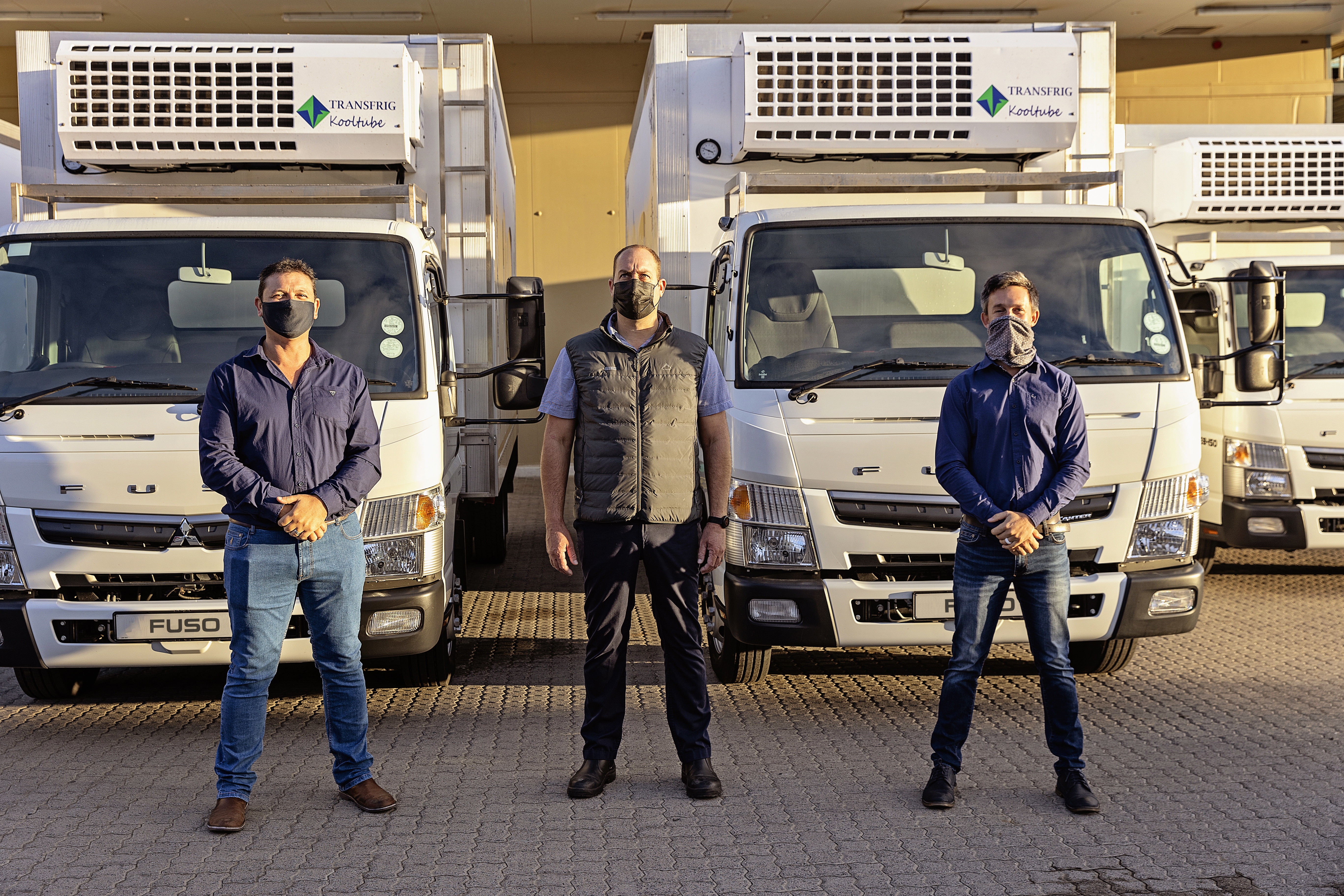 FUSO Trucks welcomes Frozen Food Distributors to its stable with a major delivery of 10 new trucks!
---
FUSO Trucks Southern Africa, an integral brand of Daimler Trucks & Buses Southern Africa (DTBSA), and its prominent dealership Orbit Commercial Vehicles Cape Town are thrilled to welcome Frozen Food Distributors to the undisputed FUSO brand. In December 2021, Frozen Food Distributors took a giant step forward in its efforts to heighten customer support and business reach in the Western Cape region, by expanding its fleet considerably with 10 new FUSO FE8-150 AMT trucks - fitted with Ice cream bodies. FUSO Trucks became a preferred mobility partner to this successful company, thanks to its ongoing commitment to delivering "Simply Better Trucks".
Deon Venter, Distribution Manager Frozen Food Distributors shares in the excitement of joining the brand: "I have to express our high level of excitement in joining the acclaimed FUSO brand. The entire brand experience was impeccable, the sales team from Orbit Commercial Vehicles Cape Town was exceptional, they held our hands right through the process. Taking this purchase a step further is the total value FUSO offered us as a company, reliable vehicles, competitive pricing, and a comprehensive service plan, which will assist us in improving our service levels in the region. Going forward, our fleet will run efficiently with minimal downtime and breakdowns and will allow us the opportunity to deliver our products to our customers on time. I would definitely recommend FUSO trucks to other companies who are planning to expand their fleet, they are easy to operate on your day-to-day operations, robust, and easy to maintain – the FUSO brand is the way to go".

Maretha Gerber, Vice President: Sales and Marketing Daimler Trucks & Buses Southern Africa thrilled to welcome the new customer: "We are delighted to welcome such a successful company to our FUSO family and I think it is safe to say that they are in capable hands. We are pleased to have been able to fulfil their specific requirements and deliver these striking vehicles on time. As a brand, we not only develop reliable and robust products that are a perfect fit for each customer's business, but we always ensure that our products are perfectly suited to the local conditions. We wish Frozen Food Distributors all the success and as they continue to expand their business, we aim to provide them with full support to better serve the growing needs of their customers in the Western Cape region".

Frozen Food Distributors has been in existence in South Africa for 16 years. The owner Johann Bester has 28 years of experience in the storage and distribution of highly perishable products. With a strong focus in the Western Cape region, the company takes pride in offering a route to market solution for all the products they sell, store and distribute. They specialize in the handling, storage, sales, and distribution of not only ice cream, but also a wide range of other frozen products.

Their fleet comprises vehicles specially designed to go up to -40˚C, giving their customers peace of mind that their products will be delivered safely and that maintaining the cold chain will never be compromised. In addition, Frozen Food Distributors invests in the calibre of its people; they are well trained to handle the daily operations of the business. As the company continues to grow, its vision of being the most-talked-about company for all the right reasons in the Frozen Food Industry continues to live.