FUSO Trucks and Raubex Infra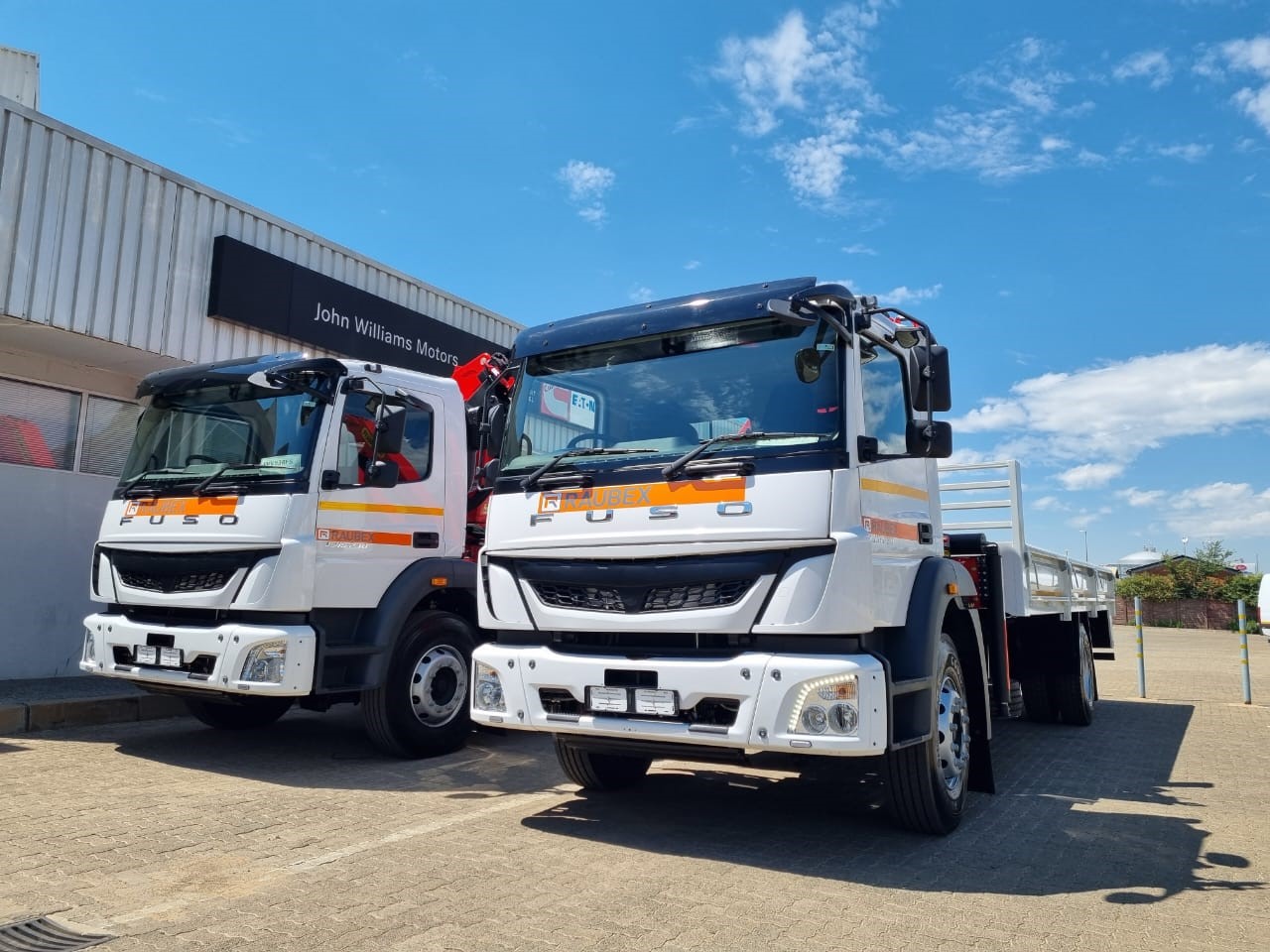 Raubex Infra and FUSO Truck's relationship grows from strength to strength as they take delivery of new trucks!
---
Over decades FUSO Trucks and Raubex Infra have grown to develop a mutually beneficial and valuable relationship, which once again calls for a celebration, following a successful handover of two FUSO FJ16-230L models. With over 45 years in the construction industry, Raubex Infra is one of South Africa's leading infrastructure development and construction materials supply groups, of which FUSO Trucks has been a key player with its robust fleet. The company recently injected two new FUSO trucks into its current fleet, citing durability, payload levels, fuel efficiency, and, more importantly, the total cost of ownership as fundamental to the buying decision.
Raubex Infra receives its sales and aftersales support from John William's Commercial Vehicles Bloemfontein. The company has been a great supporter of FUSO Trucks since its inception and today its current fleet proudly comprises nine FUSO trucks; x4 FJ26-280C Tipper bodies, x3 FE7-136 with people carrier, Diesel Tanker, and Road Rail Conversions, lastly x2 FJ16-230L Crane trucks with dropside bodies. The recently purchased units form part of Raubex's continuous fleet expansion plan.
Management of Raubex Infra comment on the recent purchase: "I can happily attest to the fact that FUSO trucks in our fleet continue to WOW us, they are reliable, versatile, easy to operate, and they offer us real value for money with no compromise to quality. It is for this reason that we have been a part of this incredible brand for many years and today we are pleased to call them our trusted and valued long-term business partner. We continue to be impressed by the high level of customer service we receive from John William's Commercial Vehicles Bloemfontein, it is a mutually beneficial business partnership that we aim to maintain going forward. We are thrilled to continue our business journey with FUSO Trucks and our future is exciting as we plan to further grow our business".
Maretha Gerber, Vice President: Sales and Marketing shares in the excitement of the handover:
"We are delighted to continue to be such a vital part of Raubex Infra following the handover of the new vehicles, and proud to declare this delivery a celebration of a great business partnership. Raubex Infra is the yardstick of excellence in the construction industry, and trusting our FUSO trucks to be a part of their mega fleet is a big step for us toward our ongoing quest to offer customers suitable vehicles for their industry application. As we continue to create greater futures together, we aim to sustain our close relationship by responding swiftly to their business requirements. We look forward to the road ahead as we embark on our next wave of expanding our product range for the Southern Africa market and thank you for believing in our brand".
Raubex Infra is part of the Raubex Group Limited that was listed on the JSE in March 2007 and operates across South Africa as well as throughout southern Africa. The group consists of three divisions, namely the Materials Division, Roads and Earthworks Division, and Infrastructure Division. They operate in South Africa, Namibia, Botswana, Zimbabwe, Zambia, Mozambique, Cameroon, and Western Australia. In addition to this, they have also entered the Western Australian market through the acquisition of Westforce Construction in December 2017. Their business ambition is to be the African leader in road and civil engineering contracting, as well as in the provision of construction materials and mining services, whilst meeting all stakeholder expectations.
Media enquiries:
Lisanda Mcetywa
Tel: 012 677 1792
Cell: 076 236 4781
e-mail: lisanda.mcetywa@daimler.com