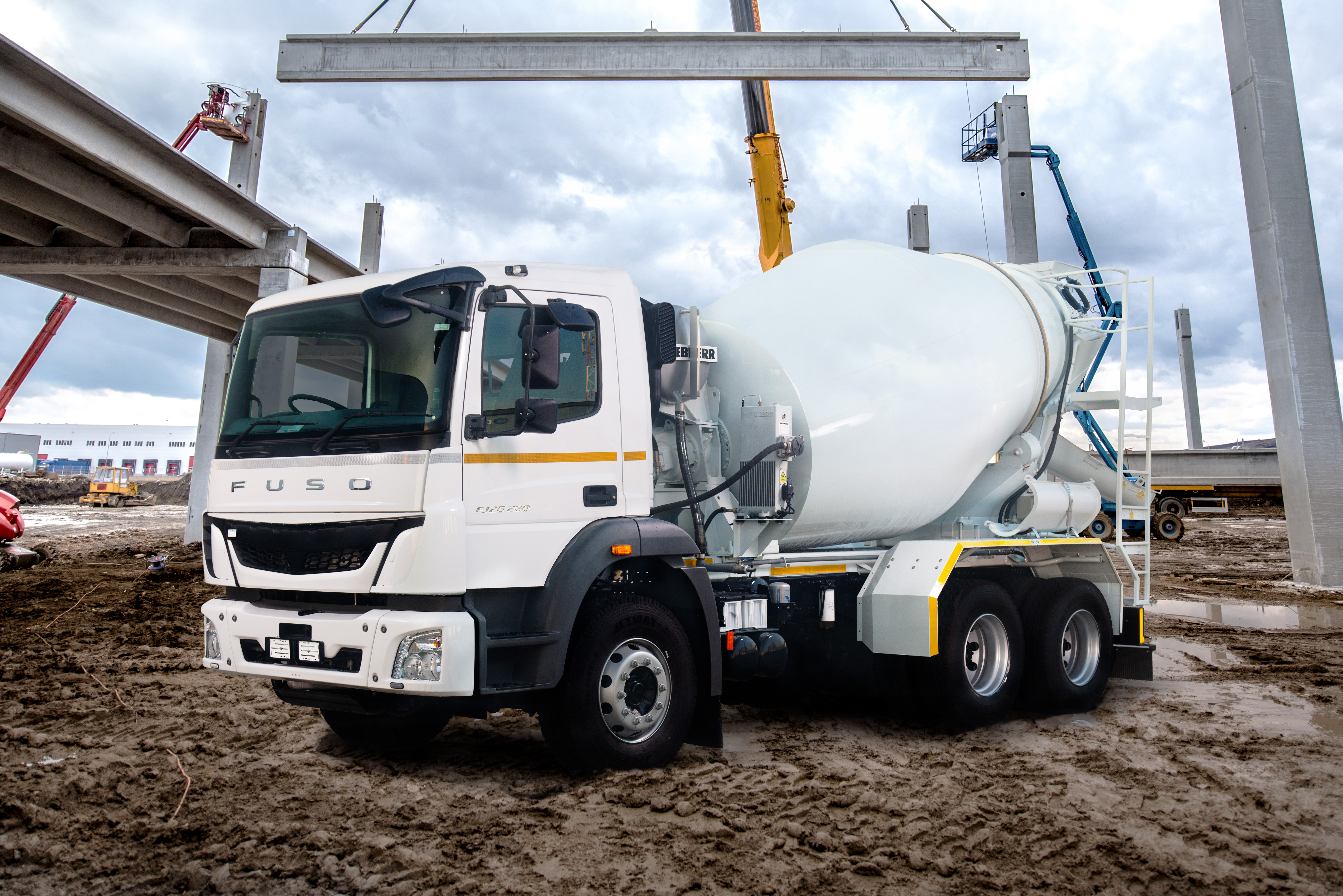 Introducing the FUSO FJ26-280C HYP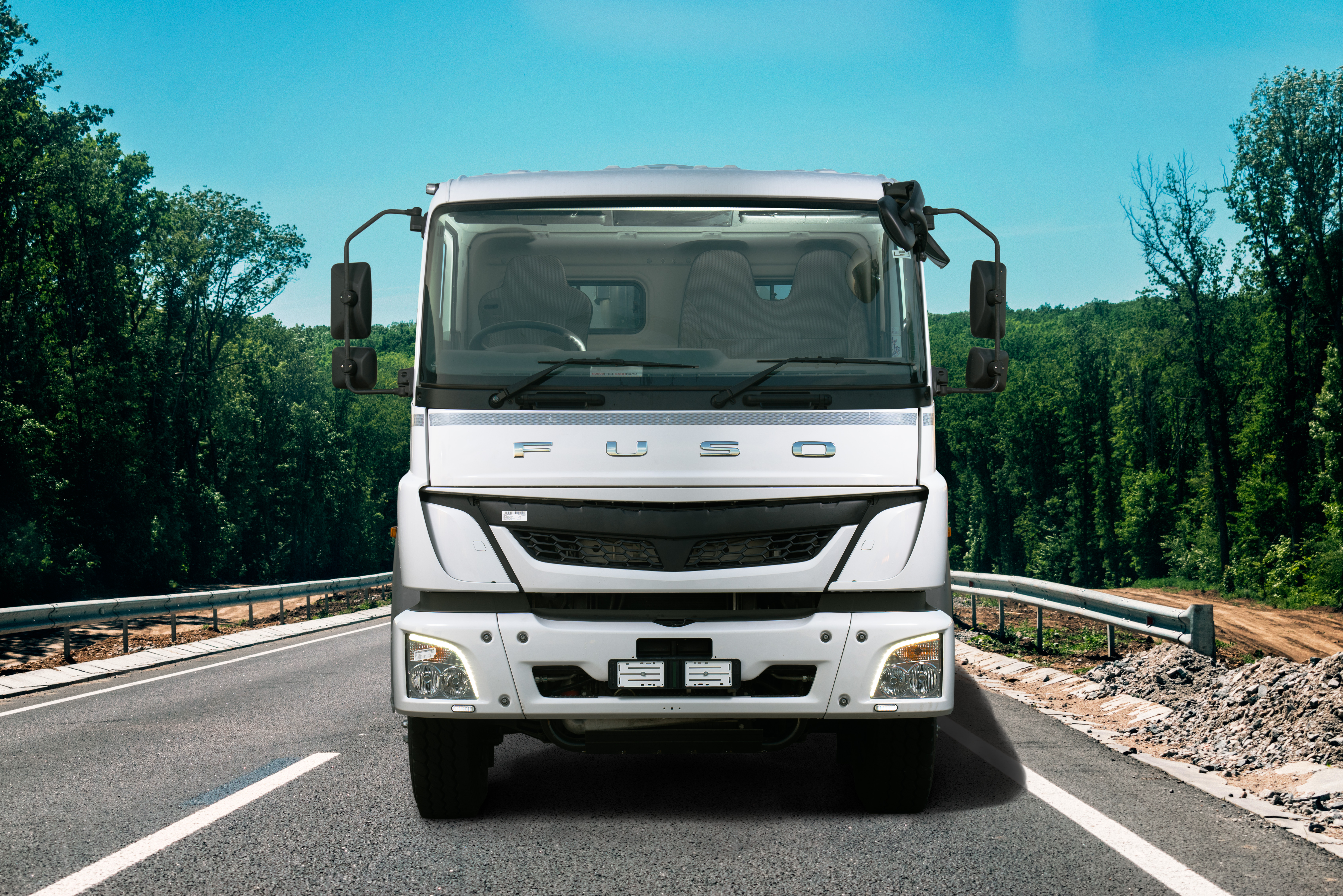 FUSO Trucks enhances the FJ26-280C to achieve the highly sought after 6-cubic meter capacity
---
PRETORIA, SOUTH AFRICA – FUSO Trucks a brand of Daimler Trucks & Buses Southern Africa, is pleased to welcome the FJ26-280C HYP to its well-established FJ range. This is a second variant of FJ26-280C, successfully launched and well-received in Southern Africa in 2017. With the introduction of this model, FUSO Trucks Southern Africa lives up to its single-minded determination of continuously providing purpose-fit vehicles and delivering Simply Better Trucks.
The aesthetically pleasing and purpose fit vehicle is designed and engineered to fulfil customer business needs in the construction segment. It is specifically fitted with hypoid rear axles (single reduction axles), contributing extensively to low fuel consumption and reducing the tare weight of the vehicle. This is to ensure that the vehicle can accommodate a 6-cubic meter concrete mixer and still comply with the permissible axle loads.
Ziyad Gaba, Head of FUSO Trucks Southern Africa says: "We are immensely excited to be adding another new model to the FUSO brand, built on proven reliability and durability of the FUSO FJ range. We pride ourselves in constantly improving our existing product offering through monitoring customer requirements and market trends. With the FJ-26-280C HYP we are offering our customers a more versatile and fuel efficient solution".
Built for reliability and durability
FJ26-280C HYP is offered with a 6.4-litre direct-injection engine, producing 205 kW of power at 2 200 rpm, with the torque levelling out at 1 100 Nm between 1 200 rpm to 1500 rpm.
The 6S20 Daimler engine delivers higher torque over a wide range of engine speeds and is paired with the G131 nine-speed manual transmission with crawler gear. The flat torque curve of the engine reduces the need for frequent gear shifting. This vehicle has oil lubricated fuel injection pumps which inject the precise quantity of required fuel at high pressure, resulting in improved combustion of fuel, delivering unmatched fuel efficiency.
The engine features an e-viscous electric fan and its intermittent operation improves fuel economy by disengaging the fan when the engine is operating below a preset temperature.
Further to this, the FUSO FJ26-280C HYP will also be available with both the engine PTO (Power Take Off) and a transmission PTO, allowing the customer the flexibility to either fit a mixer or tipper body when taking delivery of the vehicle, in the event of a body change during the life cycle of the vehicle, this will still be possible.
This truck has a clutch wear indicator for preventive maintenance and differential lock making it easy to operate in difficult conditions.
Aerodynamic Design Cabin
The model features an aerodynamic FUSO FJ cab which reduces tractive resistance and increases fuel efficiency. The aesthetically appealing vehicle has a wider cabin tilt angle and hydraulic system, easy to lift and widely opens allowing easy access to the engine bay. 
Added on the vehicle as well is a three-piece bumper contributing to safety and low maintenance costs. The improved aesthetics on the bumper give the vehicle a good fit and finishing.
The FUSO FJ26-280C HYP doors fully open and allow for easy entry and exit, due to two low footsteps and two climbing handles making it easier for the driver to get in and out, and less tiring.
Currently, the new model is offered mainly on the concrete mixer application. Customers can also use the vehicle for other applications such as tipper, water tanker, and waste management.
Cabin interior that maximises driving comfort
The interior features of the vehicle have prioritized driver comfort. The cabin is spacious allowing for a driver and two co-drivers. It is exceptionally accommodating and driver-friendly, designed to maximise driver comfort and convenience and resulting in reduced driver fatigue and increased driver productivity.
The FUSO FJ26-280C HYP boasts a storage box with a lock underneath the co-driver's seat, which is essential for keeping important documents and other valuables. In addition to this, it comes with improved interior LED lamps for improved illumination.
The vehicle has a wide steering wheel with tilt and telescopic column which makes driving pleasurable. The sound system comes standard with USB port making the FUSO a home away from home.
In addition to this is cruise control, which plays an important role in controlling the speed of the truck as required by the driver and providing fatigue-free driving and fuel efficiency. The vehicle also comes standard with a seat-belt monitoring to reinforce safety of the driver.
It offers an intelligent instrument cluster with a variable green band, and the trip mileage indicator indicates fuel efficiency achieved on a given trip. It also makes it simple to monitor the complete trip and gives warning signals alerting the driver to the need for preventive maintenance. 
The current FUSO FJ 26-280C model will still be available for customers to meet their different application requirements. It continues to perform outstandingly well and is undoubtedly becoming the vehicle of choice in some of the applications in the construction segment.
"Despite the challenges brought by the pandemic in the construction industry, we remain optimistic that the industry will start building its way back to positive growth in 2021 and onwards. Our aim is to continue to provide simply better trucks, and with this model we truly believe that we will cater directly to the needs of customers in this segment," concludes Gaba.
Further information about FUSO Trucks Southern Africa is available online:          
And on our social media channel:
Mercedes-Benz Trucks and Buses SA
Ends.
Media enquiries:
Lisanda Mcetywa
Tel: 012 677 1792
Cell: 076 236 4781
e-mail:  lisanda.mcetywa@daimler.com
Daimler Trucks & Buses Southern Africa at a glance
Since the invention of the truck over 120 years ago, Daimler has been a pioneer in the commercial vehicle sector and is today one of the world's largest commercial vehicle manufacturers. Established in South Africa over 60 years ago, Daimler Trucks & Buses together with its brands provide optimal experience, expertise and attractive products and services to its customers. With a Southern African footprint, our success is based on our strong brands inclusive of Mercedes-Benz Trucks and Buses, FUSO Trucks along with Freightliner parts and services.  Our comprehensive product range is backed by our value-added services in Fleetboard, TruckTraining, TruckStore and Mercedes-Benz Financial Services. All our products are proudly assembled in our production plant in East London, South Africa.