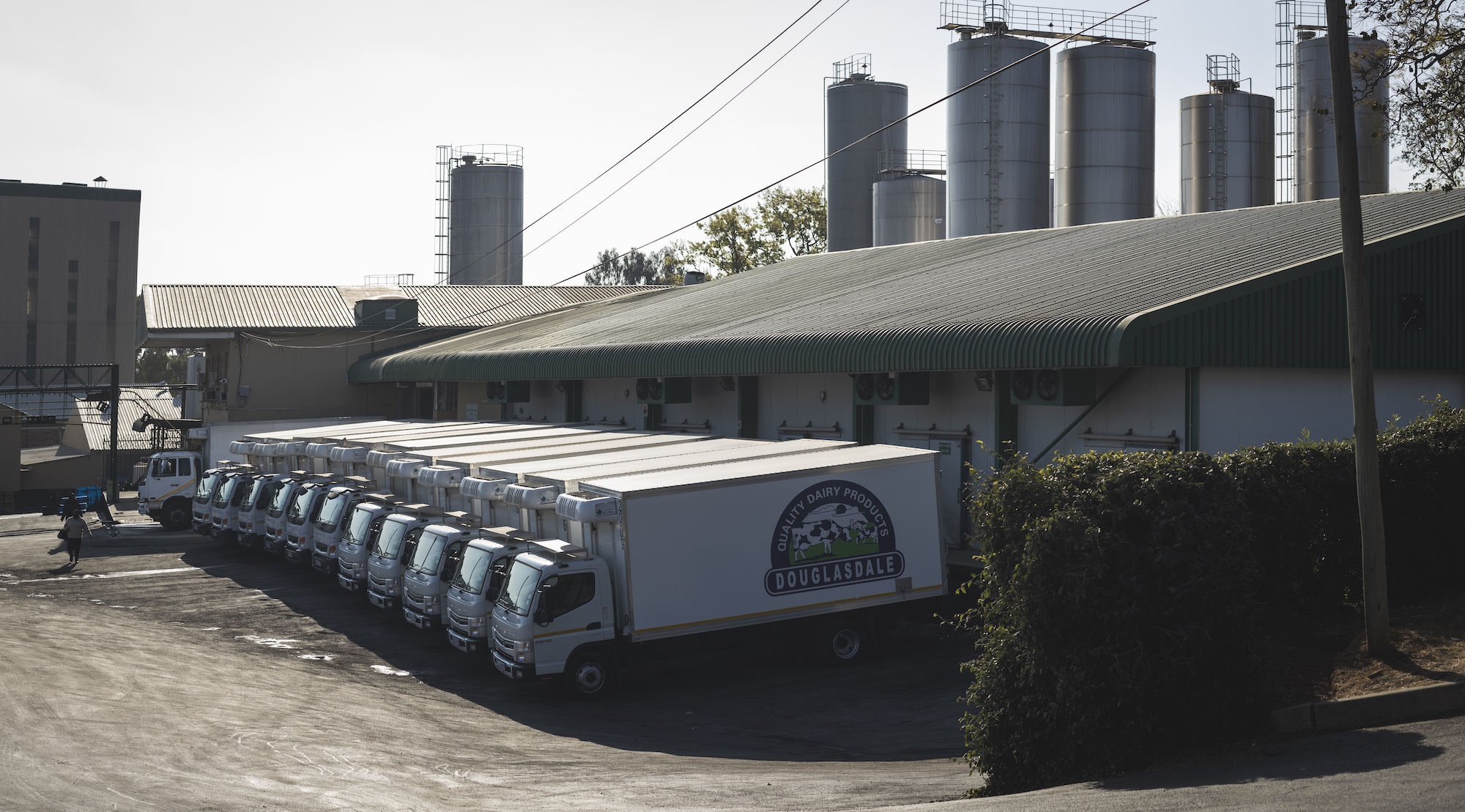 The cream whips of Douglasdale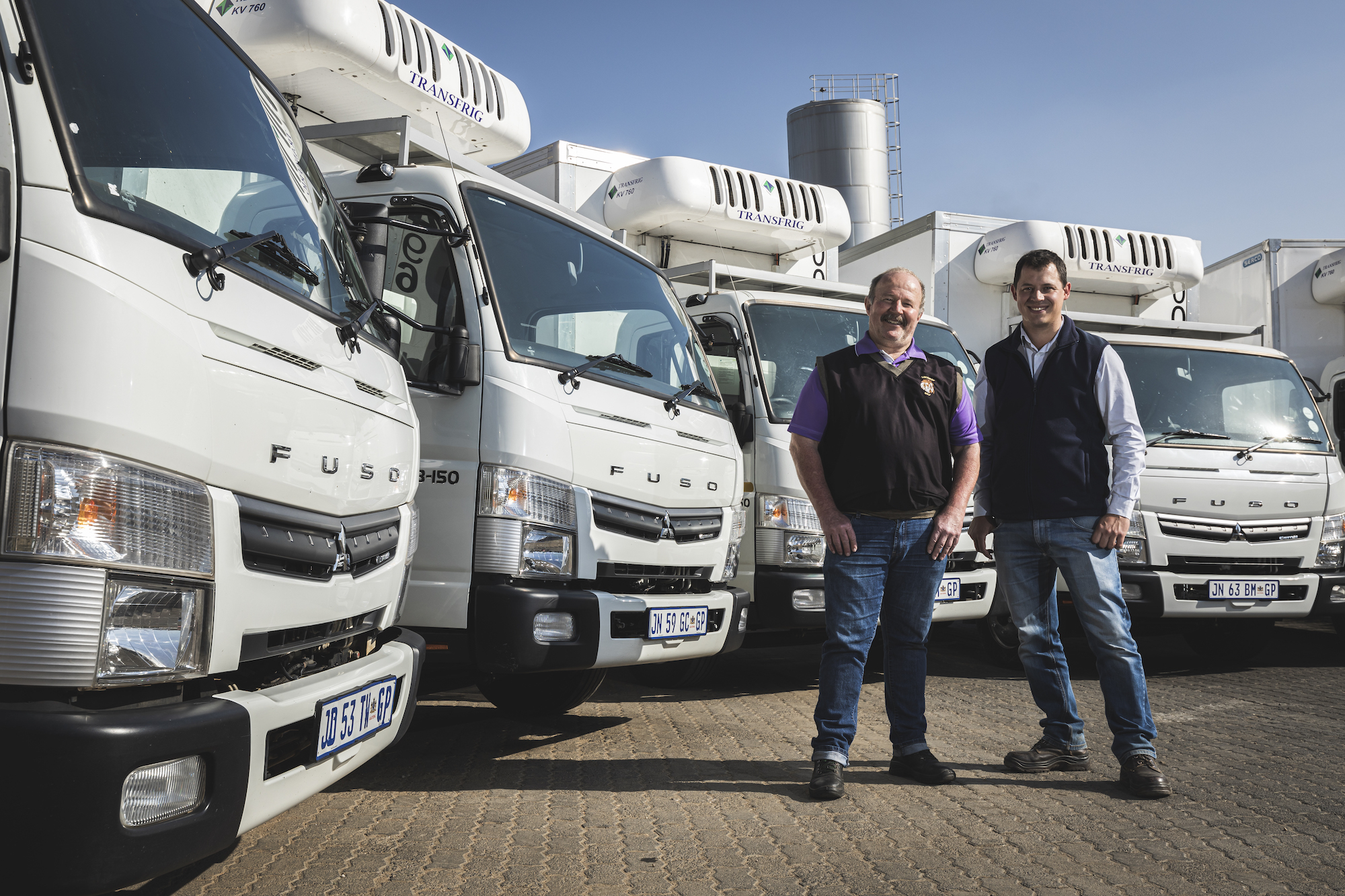 The cream whips of Douglasdale
---
The cream whips of Douglasdale
In its quest to find small trucks with big payloads that are durable and affordable too, Douglasdale Dairy in Bryanston buys FUSO.
To most people, life without cappuccinos, ice cream and maas is unthinkable. Luckily such a joyless scenario is just the stuff of nightmares, as Douglasdale Dairy delivers fresh milk, cream and maas to thousands of businesses in Gauteng, North West and Mpumalanga.
Some of their customers are high-volume producers of premium ice cream, while others are micro-businesses simply buying a small crate of milk for tea-time. Regardless of how big or small they are, the dairy products they receive from Douglasdale Dairy made the journey there in refrigerated FUSO trucks.
For Douglasdale Dairy it's not just about caffeine fixes and creamy ice creams – it's about getting the best-quality fresh dairy to customers of all income levels, at affordable prices. To do so requires an ultra-reliable delivery fleet that operates with precision and speed.
The lion's share of the Douglasdale fleet consists of FUSO Canter LIFT trucks – 51 of them, soon to be joined by more of these advanced workhorses. Each truck easily delivers over 3 000 litres of product every day.
Douglasdale hasn't always used FUSO trucks for deliveries. Jeff Acar, the dairy's Fleet and Workshop Manager, tells the story: "I've been with the dairy for 12 years. We started out with manual-transmission trucks, but they suffered clutch and gearbox failures because of the stop-start nature of doing deliveries. In 2016 we started using FUSO FE8 (Canter LIFT) trucks with automatic transmissions."
The FE8 Canters in the Douglasdale fleet use FUSO's groundbreaking DUONIC™ dual-clutch transmission. Usually found in premium passenger cars, this twin-clutch transmission pre-selects the next gear while driving, with virtually no torque interruption, no power lag, and seamless transition between gears. The Canter LIFT's 2 998 cc inter-cooled 4P10 turbo engine provides flexibility and class-leading fuel efficiency. With four cylinders and electronic common-rail fuel injection, the 4P10 engine produces 110 kW and 370 Nm for effortless transport of Douglasdale's heavy liquid cargo. Asked to comment on any possible improvement in fuel efficiency, Jeff says the dairy has noticed a reduction in fuel consumption in some areas where Douglasdale delivers, after introducing the DUONIC trucks.
Douglasdale's Logistics Manager, Tom Huber, is enthusiastic about these small FUSOs that clearly punch above their weight. "Milk is a heavy product to deliver, so we need a high payload. The price-to-payload ratio of these trucks makes them very good value for money. It's the right truck for us."
Besides durability, price and payload, Tom and Jeff also praise the after-sales support Douglasdale receives from FUSO Southern Africa. "We've structured a deal with FUSO where the trucks are supplied with a 240 000 km warranty and are serviced every 25 000 km by FUSO," Jeff explains. With longer service intervals, the Canters can spend more time on the road making deliveries.
Are there any other attributes of these trucks that find favour with Jeff, Tom and the drivers? "The drivers appreciate the comfort features," Jeff remarks. It's unsurprising, since the Canter's elevated steering column and short-throw gear lever mounted on the dashboard leave enough room to seat three comfortably in the cab. Jeff is also pleased with the disc brakes with dual callipers all round – not just on the front wheels, as with the Canter's competitors. Together with ABS and electronic brake-force distribution (EBD), the self-adjusting brakes ensure the trucks can stop in the shortest distance possible.  
A very useful feature for multi-stop deliveries is the park function, which automatically locks the transmission for extra safety. When the gear lever is in Park, the back wheels are locked even if the handbrake isn't engaged. DUONIC™ also enables effortless forward and backward movement at very low speeds, which helps the driver in rush-hour traffic and when maneuvering into narrow loading bays.
That more of the triple-diamond badges will be seen in the company's depots and on its routes is a safe bet, helping it to achieve even greater success. "We have grown our business by providing excellent quality at fantastic prices. This makes it possible for more communities in our areas to get nutritious dairy products," Tom concludes.