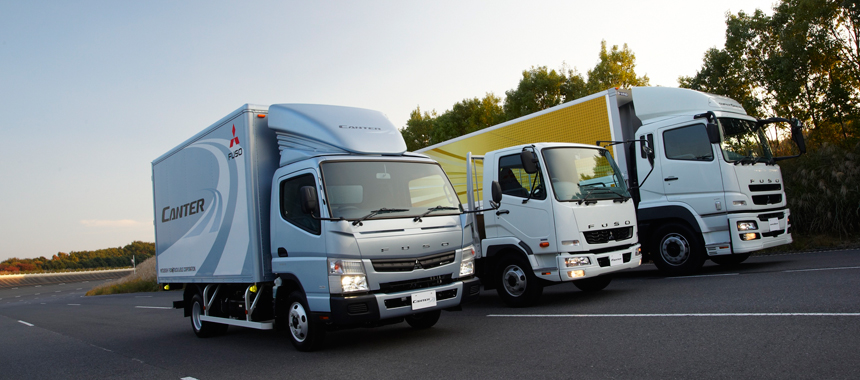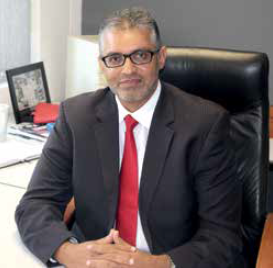 Delivering the Goods
---
Naeem Hassim, the new head of FUSO Trucks Southern Africa, chats to Transport
WHAT ARE YOUR PLANS FOR THE BRAND?
Our goal is to be the first choice in the commercial vehicle solutions business, and I want our loyal customers to know that the new-generation FUSO Canter is the most forward-thinking mediumduty commercial truck in its class. It has been completely re-engineered, and each vehicle is specifically designed for the small-to-medium businessperson whose livelihood depends on dependable, reliable transport. We will also be expanding the FUSO range over the next 12 months.
TELL US A BIT MORE ABOUT THE FUSO RANGE...
For medium to heavy-duty applications, the FUSO FK/FM series offers a variety of efficient, economical and powerful engines and moves maximum payloads. The FUSO FP/FV extra heavy-duty series is available in 4x2 and 6x4 configurations, with GVMs from 18 to 26 tons.
WHAT'S THE THING YOU LIKE MOST ABOUT TRUCKS?
I'm passionate about the trucking industry, innovations, technology and the different applications that make the trucks so unique. Besides admiring the sheer beauty of these workhorses, I also appreciate how different our world would be without trucks. I like that trucks, especially FUSO trucks, are some of the most reliable vehicles on the roads. Of course, I also love how our champion, the FUSO Canter LIFT, continues to bring home accolades, like its recent Light Truck of the Year Award 2015 by VansA2Z in the UK. I have tremendous respect for everyone involved in the truck industry.
WHICH FUSO IS YOUR FAVOURITE?
I love the entire model range, but if I have to choose one it's the Canter LIFT FE8-150 TF AMT. Whether it's used for refrigerated deliveries, bakery applications, butchery, general distribution, courier logistics or any other operation, this vehicle just keeps delivering the goods – literally and figuratively.
WHAT MAKES FUSO SO POPULAR?
Fuso trucks truly maximise efficiency and lower the cost of ownership, while being practical vehicles to own and drive. With the combination of advanced engines and transmissions, fuel-efficiency targets are easily achieved. They also have a smooth-running, easy-to-drive nature with long service intervals and excellent bumper-to-bumper warranties.
IF YOU WEREN'T DOING THIS JOB, WHAT WOULD YOU BE DOING?
I'd like to have my own commercial vehicle dealership one day. There's so much pride in knowing that a customer trusts you and doing everything you can to exceed their expectations. Being a FUSO man, I know the sale is just the start of the relationship – providing excellent after-sales service would be of the utmost importance for my dealership.
WHAT DO YOUR KIDS THINK OF DAD'S JOB?
My twins, Raees and Raeesa, love trucks and think I have an awesome job. When we go on holiday they look for Daimler brands on the road and count the number of trucks they see.
HOW DO YOU RELAX?
On the rare occasions when my schedule allows I run as fast as I can… to the golf course! Golf not only relaxes me but also allows me to practise skills that enhance my career: perseverance, technical knowhow, planning and enjoyment are key in all spheres of life. When I really want to take it easy, I read a book and get lost in other worlds.