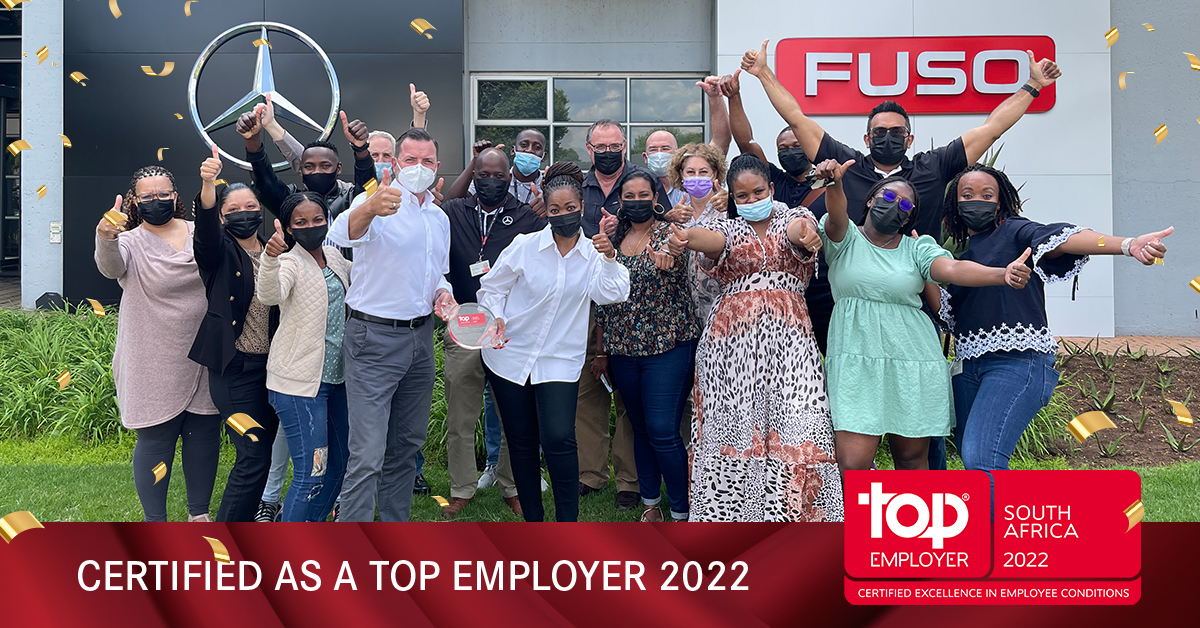 Daimler Trucks & Buses Southern Africa retains Top Employer title for 2022!
---
SOUTH AFRICA, PRETORIA – Daimler Trucks & Buses Southern Africa (DTBSA), one of the leading commercial vehicle manufacturers across the region is extremely honored to be bestowed the coveted Top Employer certification for 2022 by the Top Employer Institution. This accolade was announced at the most anticipated Top Employers 2022 certification celebration held virtually, and DTBSA was one of 114 pre-eminent organisations to receive this prestigious recognition. DTBSA is no stranger to the award, in the past six consecutive years the company has been recognised under the Mercedes-Benz group of companies. For the first time this year, following the global split, DTBSA walked away with this highly sought-after award as a completely independent company.
Michael Dietz, President and CEO Daimler Trucks & Buses Southern Africa comments on this notable achievement: "It is a huge honor and privilege to have achieved this significant recognition, and to be listed amongst companies in South Africa that offer superior working conditions for its employees. Receiving an award of this caliber sends a very strong message about our steadfast commitment to our people and their well-being. I can confidently say that our people remain at the center of everything that we do and we always strive for a culture that promotes collaboration, engagement, and motivation to ensure that they feel valued and appreciated. As we continue to invest tremendously in training programmes to develop and upskill our people, our purpose for all who keep Africa moving continues to ring true and we would like to continue in this direction for the success of the company and a favorable working environment".
Top Employers Institute CEO David Plink says: "Reflecting on the demanding year that has, like the year before it, impacted organisations across the world, Daimler Trucks & Buses Southern Africa has continued to show that it prioritises maintaining excellent people practices in the workplace. They continue to meet the challenges of the changing world of work while working tirelessly to make a positive impact on the lives of their workforce. We are pleased to celebrate and applaud the organisations that have been certified as Top Employers in their respective countries this year."
Top Employers Institute is the global authority on recognising excellence in People Practices. We help accelerate these practices to enrich the world of work. Through the Top Employers Institute Certification Programme, participating companies can be validated, certified, and recognised as an employer of choice. Established over 30 years ago, Top Employers Institute has certified over 1857 organisations in 123 countries/regions. These certified Top Employers positively impact the lives of over 8 million employees globally.
Media enquiries:
Lisanda Mcetywa
Tel: 012 677 1792
Cell: 076 236 4781
e-mail: lisanda.mcetywa@daimler.com