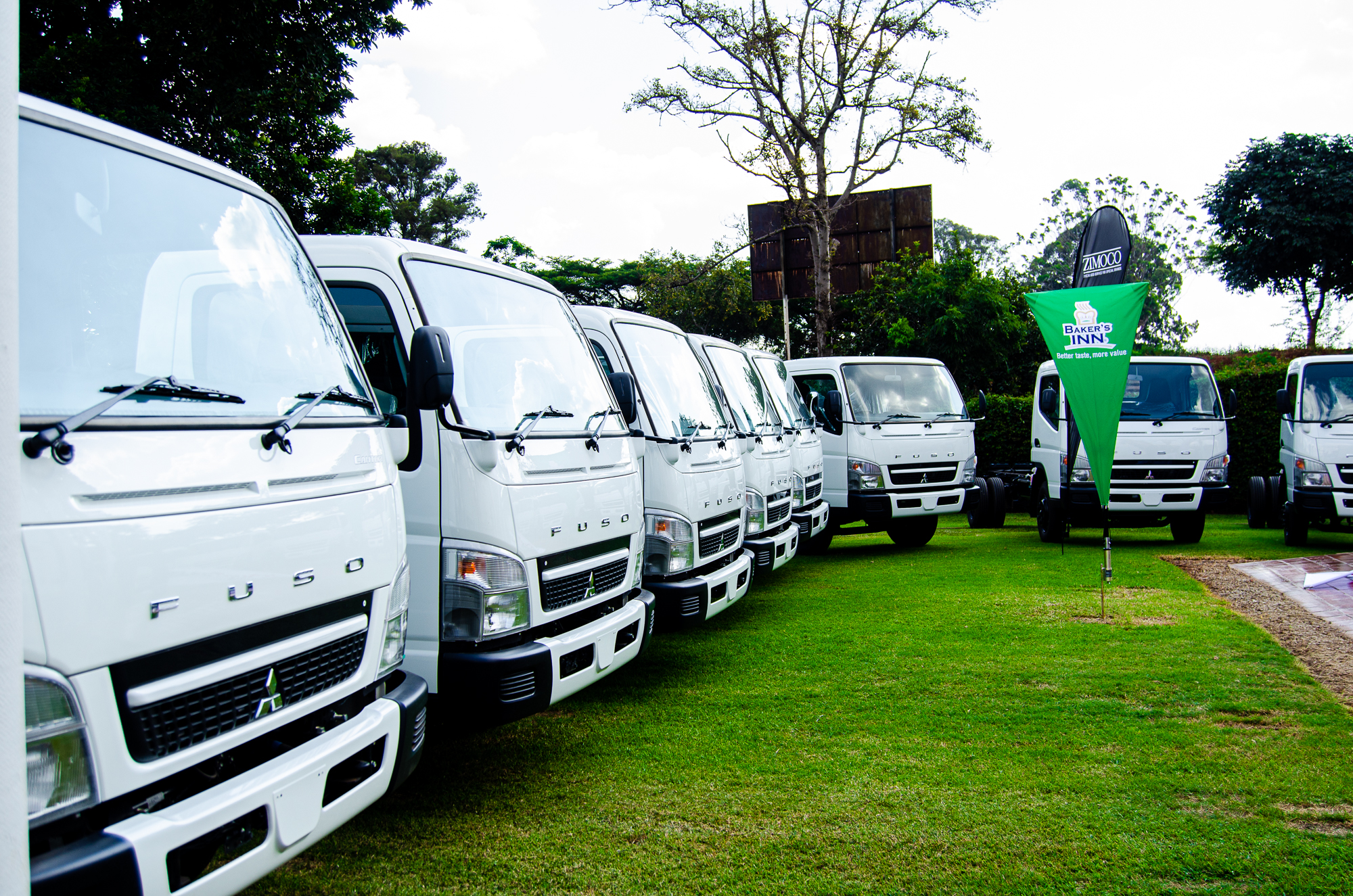 FUSO Trucks heightens its foothold in Zimbabwe with an astounding deal to supply 250 trucks to Baker's Inn!
- FUSO Trucks commenced with the delivery of the first batch of 50 FE7-136 units, to one of the leading Zimbabwean suppliers of quality premium bread – Baker's Inn
- A total of 250 FUSO trucks will be gradually supplied to Baker's Inn in the upcoming years, with the intention to upgrade the entire company's existing fleet
- This is notably the first-ever FUSO fleet to be owned and operated by Baker's Inn
SOUTH AFRICA, PRETORIA – At an exclusively hosted handover ceremony in Zimbabwe, FUSO Trucks and its authorised general distributor, ZIMOCO celebrated their newly-formed partnership with Baker's Inn with a substantial delivery of 50 FUSO FE7-136 brand-new trucks. In line with the company's vehicle replacement policy, the first 50 units handed over form part of the massive order of 250 trucks. The remaining units will be delivered in batches in the upcoming years with the aim to ultimately replace the company's existing non-Daimler Truck fleet. Baker's Inn is beyond ecstatic to welcome its very first robust FUSO fleet and the new wheels will further boost its flourishing bread business and the increasing demands of customers in the region.
The handover ceremony was hosted at Zimoco Commercial Vehicles Sales Office, and the guests in attendance were amongst others; Benjamin Mavros, COO Baker's Inn, Samual Makore General Manager at Bakers Inn Logistics Northern Region, Bob Crossley CEO of ZIMOCO, Michael Dietz President and CEO of Daimler Truck Southern Africa and Peter Kendzorra Chief Finance Officer of Daimler Truck Southern Africa.
Benjamin Mavros, COO Baker's Inn had this to say about the new fleet: "This is an incrediblemilestone for our company, our government, and the people of Zimbabwe that we take ownership of 50 brand new FUSO Trucks. For us as this is an exciting time as we move into a new chapter of our lives. With our growing economy and population, it is our goal to increase production to 1 000 000 loaves per day. We are pleased to have identified a partner in ZIMOCO, FUSO Trucks as well as Daimler Truck Southern Africa at large to provide the distribution solution to carry our bread to all corners of Zimbabwe to ensure our people have the best possible access to freshly baked bread every day. We sincerely hope this is the birth of a long and prosperous relationship".
Since the official opening of the Regional Centre Southern Africa (RCSA) in 2016, ZIMOCO and its sister dealership, Southern Cross Motors have been the exclusive general distributors of Daimler Truck Southern Africa (DTSA) commercial vehicles in Zimbabwe and Zambia. With the success of the Baker's Inn deal, Zimoco Commercial Vehicles will play a significant role in widening the company's distribution network to the underserved areas of Zimbabwe. The new fleet will allow Baker's Inn to grow this already impressive production from 450, 000 loaves to 1 million loaves produced daily in the near future.
Bob Crossley, CEO ZIMOCO says: "Any deal at the moment in Zimbabwe is a good deal and we are pleased by the trust and confidence that Baker's Inn has placed in us. We have been working on this deal for the past five years, and through the support of the FUSO Trucks team and Daimler Truck Southern Africa (DTSA) at large, we were able to bring this deal to fruition. I can confirm that Baker's Inn is indeed in capable hands going forward".
"We are honoured to celebrate this important milestone with Baker's Inn, this is certainly a giant step in the expansion of their fleet. I am thrilled to say that our FUSO brand has a firm foothold in the market due to its reputation for delivering "Simply Better Trucks" and this handover renews confidence in the potential of Southern African markets. Baker's Inn is one of the biggest specialists in freshly baked bread in Zimbabwe, and together with our exclusive and trusted partner Zimoco Commercial Vehicles, we are delighted to take their business to greater heights. Looking ahead, we are committed to sustaining a close relationship with them as we continue to expand our FUSO product range to further strengthen our presence in the region", concludes Michael Dietz, President and CEO Daimler Truck Southern Africa.
Media enquiries:
Lisanda Mcetywa
Tel: 012 677 1792
Cell: 076 236 4781
e-mail: lisanda.mcetywa@daimler.com

Daimler Truck Southern Africa at a glance
Established in South Africa approximately 60 years ago, Daimler Truck Southern Africa together with its brands provide an optimal experience, expertise, and attractive products and services to its customers. The Company's success is based on its strong brands inclusive of Mercedes-Benz Trucks, Mercedes-Benz Buses, FUSO Trucks in addition to offering parts and services for Freightliner and Western Star Trucks. Its comprehensive product range is backed by market-leading value-added services in Fleetboard, TruckStore,
TruckTraining, and Daimler Trucks Financial Services. With a Southern African footprint that includes South Africa, Namibia, Lesotho, Botswana, Eswatini, Malawi, Mozambique, Zimbabwe, and Zambia, the company is headquartered in Pretoria, the capital city of South Africa, and all its products are assembled locally in its East London production plant.