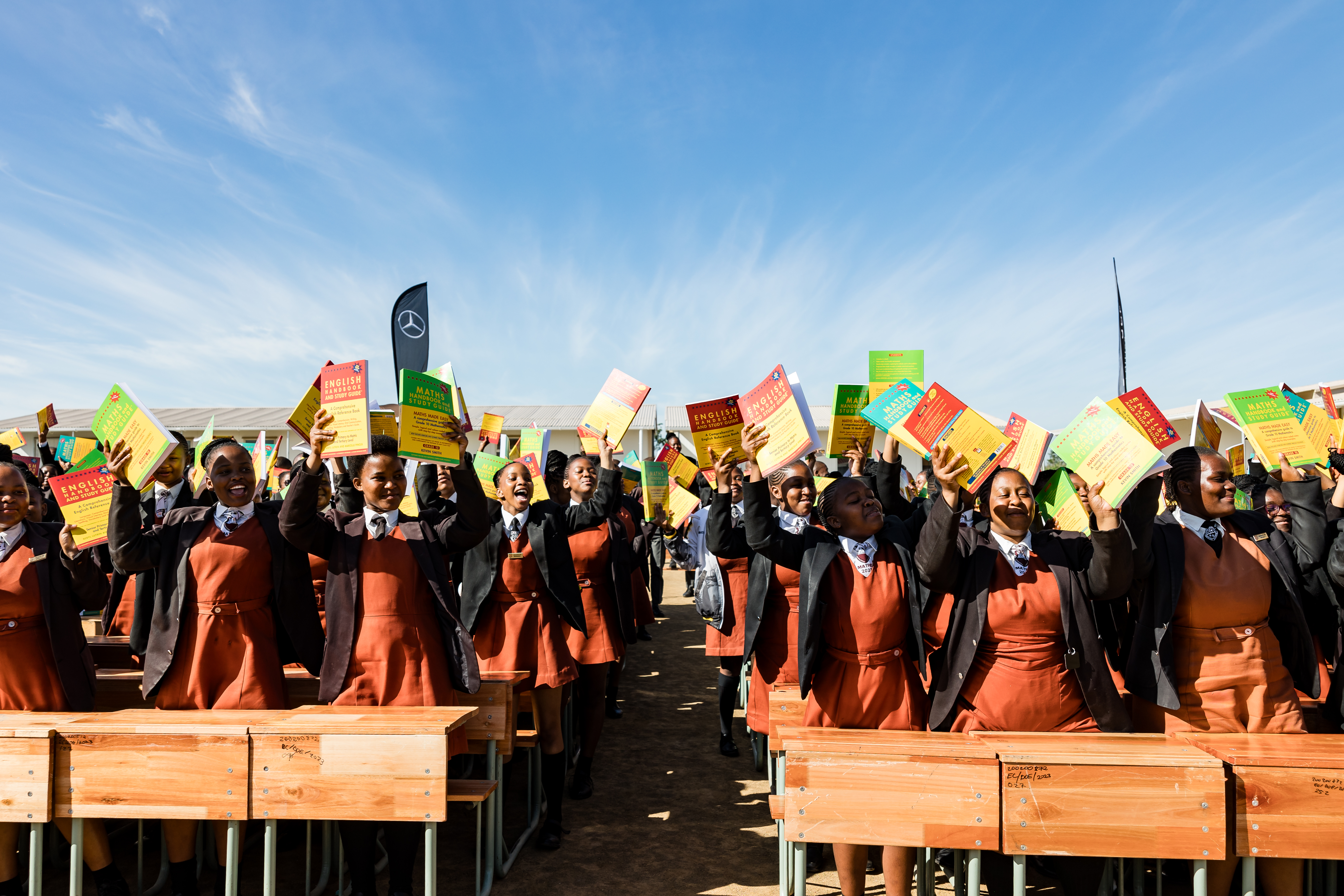 Daimler Truck Southern Africa visits Ulwazi High School in East London following the DONATION of handbooks and study Guides worth R1 million to schools in Gauteng and the Eastern Cape earlier in the year.
The donation and visit to Ulwazi High School reinforce Daimler Truck Southern Africa's commitment to actively addressing educational gaps in South Africa.
The Top Ten grade 12 learners from Ulwazi High School visit the DTSA assembly plant in East London.
PRETORIA, SOUTH AFRICA – As the 2023 school year draws to an end, DTSA visited Ulwazi High School, which received grade 8 – 12 Mathematical, English and Accounting handbooks, study guides and educator manuals earlier in the year. Ulwazi is the second high school following Phelindaba Maths, Science, and ICT School of Specialisation in Atteridgeville to receive the study material, collectively worth R1 million. This donation forms part of the socio-economic development programme, BEE123 schools' capacitation initiative that provides the highest quality, educational material to under resourced schools in South Africa.
Two days prior to DTSA's visit to the school on 27 October 2023, the top ten grade 12-learners of the school had the opportunity to visit the DTSA assembly plant to experience the production of Mercedes-Benz Trucks, Mercedes-Benz Buses, and FUSO Trucks first hand. To further ignite the student's passion for commercial vehicles and the DTSA brands, the students received a career day and had the opportunity to meet the DTSA plant management team to provide more information about the career streams available at DTSA.
Ulwazi High School is a no-fee, public high school with 1536 learners and achieved a 100% matric pass rate for the past seven years. Apart from supporting and equipping students on an academic level, the school also focusses on being a body of knowledge to prepare students for all spheres of life.
Mr. Mihlali Makhalima, Principal of Ulwazi High School made the following comment "Ulwazi High School and the larger Ulwazi community are extremely thankful for this remarkable donation by Daimler Truck Southern Africa. We will never forget the assistance DTSA offered to our learners, and we promise to deliver only the best results in 2023."
"I cannot emphasize the importance of education to drive South Africa forward enough. DTSA is enthusiastic about the youth of South Africa as the future generation leaders of this wonderful country and the opportunity to visit Ulwazi High school, experience the energy of the students and see the impact our donation made in the daily lives of the students was truly humbling." Michael Dietz, President and Group-CEO, Daimler Truck Southern Africa.
Once again, best of luck to the learners and teachers with the final exams for 2023. We look forward to positive results from Ulwazi Secondary School.
Media enquiries:
Jacqueline Fourie
Cell: 0796957485
e-mail: jacqueline.fourie@daimlertruck.com

Daimler Truck Southern Africa at a glance
Established in South Africa approximately 60 years ago, Daimler Truck Southern Africa together with its brands provide an optimal experience, expertise, and attractive products and services to its customers. The Company's success is based on its strong brands inclusive of Mercedes-Benz Trucks, Mercedes-Benz Buses, FUSO Trucks in addition to offering parts and services for Freightliner and Western Star Trucks. Its comprehensive product range is backed by market-leading value-added services in Fleetboard, TruckStore, TruckTraining, and Daimler Trucks Financial Services. With a Southern African footprint that includes South Africa, Namibia, Lesotho, Botswana, Eswatini, Malawi, Mozambique, Zimbabwe, and Zambia, the company is headquartered in Pretoria, the capital city of South Africa, and all its products are assembled locally in its East London production plant.